Dr. M just returned from Safeway, where she was presented with this coupon after she checked out: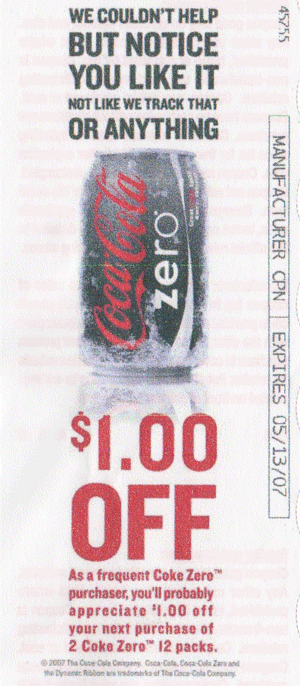 Somewhere, some advertising team was paid a jillion dollars by Coke and/or Safeway to come up with a campaign that basically says, "Hello, we are stalking you! LOL!"
Dr. M is thoroughly disturbed by this, and may avoid using the coupon just to keep Skynet off her trail.
This is an extremely dumb campaign. Plenty of people use Safeway cards, and either don't realize or are content to ignore the fact that the cards are being used to track their purchases and create shopper profiles for them. Calling attention to it like this, and intentionally adding an explicit creepiness factor, is an amazingly bad idea. In the words of Jerry Seinfeld, "Who are the advertising wizards that came up with this one?"